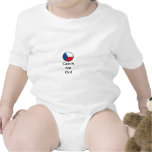 I am looking for ways to bring anything Czech or Slovak to this site. Therefore, I have created a store for anyone that is very fond of Czech and/or Slovak republics. This store offers gifts and apparel for your children, or for yourselves or your friends. By buying products not only you may make someone happy, but you will support this site also. We get a very small fee for each product, so recommend our store to your. Link to our store is located on your right hand side under "Other Links".
Should you want to create your own shirt, click on the link below. Or you can purchase gifts designed by others, too.
*******
Vzdy hledam zpusoby, jak obohatit tyto stranky cimkoliv ceskym nebo slovenskym. Vytvorila jsem pro vas on-line obchod, ktery vyjadruje lasku k Ceske a Slovenske Republice. Tento obchod nabizi darky pro vase deti, pro vas, nebo pro vase pratele. Pokud koupite cokoliv v Czech-o-Slovaks obchode, udelatenejenom nekomu radost, ale take podporite tyto stranky. Za prodej dostaneme male procenta, proto vas prosime, aby jste nas doporucili take vasim pratelum. Odkaz na nas on-line obchod je po prave strane pod "Other Links".
Kdyby jste si chteli nadesignovat svoje t-shirts, staci kliknout na odkaz nize. Taktez muzete koupit darky nadesignovane jinymi osobami. Dekujeme vsem, kdo si od nas neco koupi.